Per la struttura ho utilizzato dei listelli di ramino della dimensione di 10x30 mm. I pezzi orizzontali sono lunghi 104 mm e quelli verticali sono da 150 mm. Il divisorio tra le perline superiori e quelle inferiori è di 4x30x104 mm. I perni metallici su cui sono infilati le perline sono del diametro di 4 mm e di lunghezza pari a 138 mm. L'assemblaggio è stato fatto mediante 8 viti 2,4x20 avendo cura di forare in anticipo con una punta da 2 mm, allargando il foro passante con una punta da 2,5 mm e ricavando la sede per la testa delle viti con una punta da 5 mm.

For the frame, I used small oak lists, cross section 10x30mm, lengths 104 mm for the horizontals and 150mm for the verticals. The divider is 4x30x104mm wide. The rods are 4mm diameter, length 138mm. To join together the lists I used 8 screws 2.4x20mm. For the holes I used a drill bit of 2mm and then 2.5mm. The seat for the head of the screws has been made with a drill bit 5mm.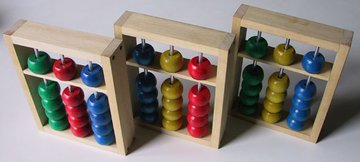 Dal sacrificio del pallottoliere però sono riuscito a costruire 3 soroban a colori ...
From the sacrifice of the original abacus, I was able to build 3 coloured soroban